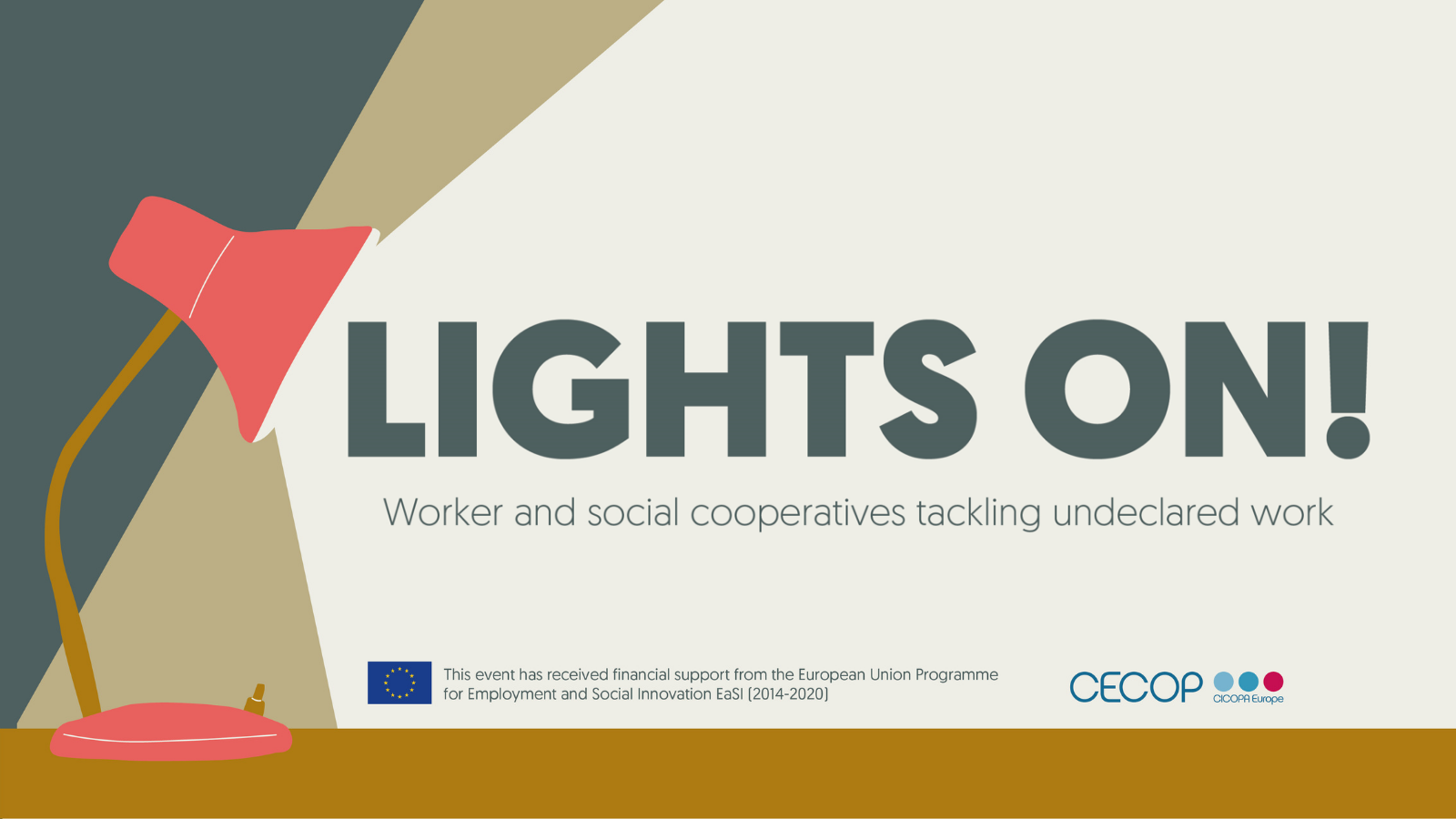 CECOP, in collaboration with Centro Studi Doc, is organizing a conference in the Italian language, to continue the further promotion of its report, "Lights On".
Undeclared work has several negative effects and consequences, not only on governments, but also on welfare systems and enterprises. This phenomenon spreads across all sectors, knows no national boundaries, intersects with human rights violations and often affects women, migrants and young workers. Tackle undeclared work, therefore, is a challenge not only for governments but also requires concrete actions by companies.
During the online event, the focus will be on the findings of CECOP's "Lights On!" report which focuses on how worker and social cooperatives in Europe are actively tackling undeclared work, developing different business models and initiatives that ensure that workers are not abandoned to the vulnerabilities of undeclared work.
After the presentation of the research and the collection of testimonies from Italian cooperatives, during the round table, speakers will discuss the Italian situation and how to fight undeclared work in the country.
Speakers will include CECOP President, Giuseppe Guerini, and CECOP board members, Francesca Montalti and Silvia Spadaro, and Simel Esim, Director of Cooperative Unit at ILO, among others.
Date and time: Thursday 24 November from 14.30 (Online)
Registration: Here
Programme: Here.
The event will be exlusively in Italian.
The "Lights On" report was originally published in 2021. It is available in English, Spanish, and Italian.
During the year 2021, CECOP additionally organized a communication campaign for its promotion, including a docuseries and a conference.
---
Lights On! - Evento online in italiano
Il CECOP, in collaborazione con il Centro Studi Doc, organizza una conferenza in lingua italiana per continuare a promuovere il rapporto "Lights On".
Il lavoro sommerso ha diversi effetti e conseguenze negative, non solo sui governi, ma anche sui sistemi di welfare e sulle imprese. Questo fenomeno che si diffonde in tutti i settori, non conosce confini nazionali, si interseca con le violazioni dei diritti umani e spesso colpisce donne, migranti e giovani lavoratori. Trovare il modo di agire contro il lavoro sommerso, quindi, è una sfida non solo per i governi, ma richiede azioni concrete anche da parte delle imprese.
Nel corso dell'evento online l'attenzione verterà attorno ai risultati del rapporto "Lights On!" di CECOP che si concentra su come le cooperative sociali e le cooperative di lavoro in Europa stanno affrontando attivamente il lavoro sommerso, sviluppando diversi modelli di business e iniziative che garantiscono che i lavoratori e le lavoratrici non siano abbandonati alle vulnerabilità del lavoro sommerso.
Dopo la presentazione della ricerca e la raccolta delle testimonianze delle cooperative italiane, durante la tavola rotonda, i relatori si confronteranno sulla situazione italiana e su come contrastare il lavoro sommerso nel Paese.
Interverranno, tra gli altri, il presidente di CECOP, Giuseppe Guerini, i membri del consiglio di amministrazione di CECOP, Francesca Montalti e Silvia Spadaro, e Simel Esim, Responsabile unità cooperative Organizzazione Internazionale del Lavoro .
Data e ora: Giovedì 24 novembre dalle 14.30 (Online)
Registrazione: Qui
Programma: Qui.
L'evento sarà esclusivamente in italiano.

Il rapporto "Lights On" è stato pubblicato originariamente nel 2021. È disponibile in inglese, spagnolo e italiano.
Nel corso dell'anno 2021, il CECOP ha inoltre organizzato una campagna di comunicazione per la sua promozione, che comprende una docuserie e una conferenza.