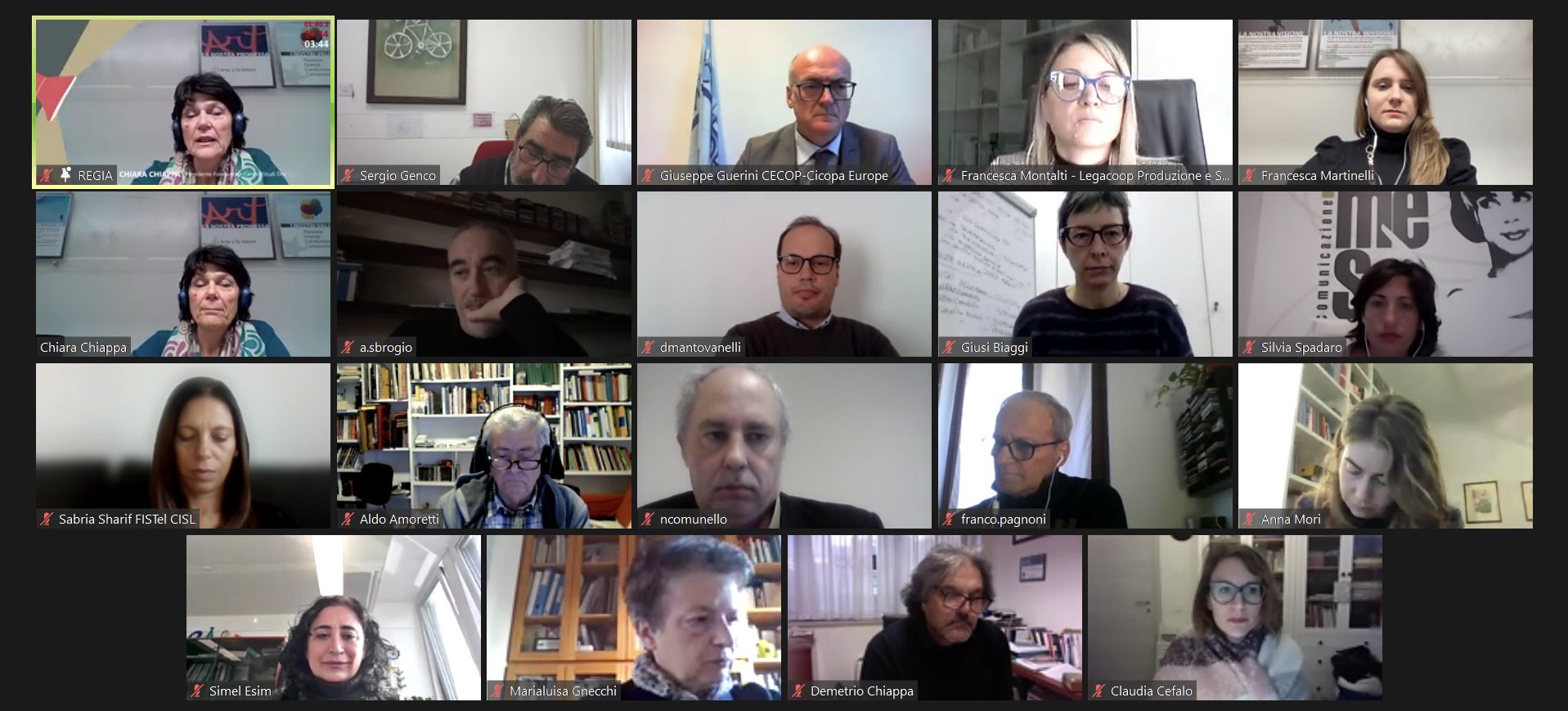 Following the publication of the 2021 CECOP report "Lights on! Worker and Social Cooperatives Tackling Undeclared Work", authored by Francesca Martinelli, it was presented in Italy on Thursday, November 24, through a video conference.
The negative effects of undeclared work affect not only governments, but also welfare systems and businesses. This phenomenon, which spreads across all sectors, knows no national boundaries. It intersects with human rights violations and often affects women, migrants and young workers. Finding ways to take action against undeclared work, therefore, is a challenge not only for governments, but requires concrete actions from businesses as well.
The online event examined CECOP's "Lights on!" report, which focuses on how social and worker cooperatives in Europe are actively addressing undeclared work, developing different business models and initiatives that ensure that workers and women workers are not left to the vulnerabilities of undeclared labor.
The meeting, organized by Fondazione Centro Studi Doc, was attended by: Simel Esim, Head of Cooperatives Unit of the International Labor Organization, Marialuisa Gnecchi, Vice President of INPS (National Institute of Social Security in Italy), Francesca Martinelli, Director of Fondazione Centro Studi Doc and author of the research, Sergio Genco, Industrial Policies and Networks Area at CGIL Nazionale, Francesco Melis, National Secretary of UILCOM, Anna Mori, Researcher at the Public University of Milan, Pierpaolo Romani, National Coordinator of Avviso Pubblico, Sharif Sabria, National Secretary of Fistel-CISL, Cinzia Spinarolli, Head of Vigilance Process of the Ispettorato Territoriale del Lavoro di Verona, and Giuseppe Guerini, President of CECOP.
Logics of undeclared work from the perspective of the International Labor Organization and INPS
"The topic of decent work is very dear to the International Labor Organization," said Simel Esim, "We are dealing with the transition from the informal to the formal economy. We estimate that about 2 billion workers are undeclared. In this context, cooperatives can help undeclared workers improve their conditions, faclitate access to social protection, encourage the sharing of services, and increase production through diversification."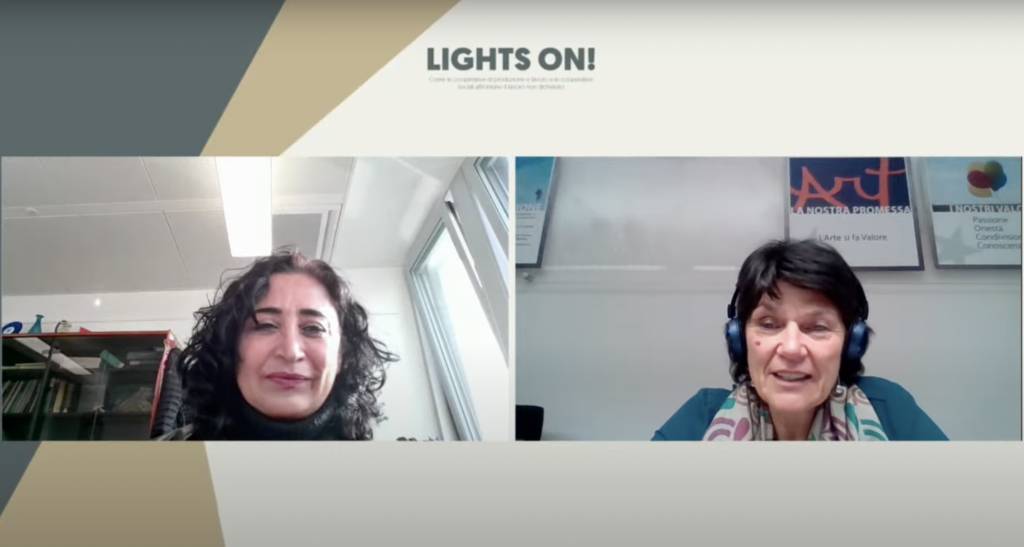 "Undeclared work in Italy is unfortunately about 12.5% of total employment. There are about 3 million undeclared workers," intervenes Marialuisa Gnecchi, vice president of INPS. "If we also consider temporary workers, 3 million, the figures become important. The PNRR, National Recovery and Resilience Plan, presented in Brussels, calls for a 2 percent return on the non-regular labor rate. It will not be easy but it must be our primary goal. Countering undeclared work is a priority for INPS and INAIL's (ed: National Institute for Workplace Accident Insurance) inspection vigilance, but unfortunately in recent years there has been a gradual decrease in inspection activity, especially with respect to contributions. That is why it is important to implement supervision on the one hand and to incentivize companies to counter poor work that passes for vouchers, on the other. On the undeclared work front, a 20 percent increase in inspections is planned by mid-2025, with the goal of reducing its incidence by 2-6 percentage points by early 2026, cutting the gap with the European average by at least a third."
"Undeclared labor in Italy is about 12.5 percent of total labor. There are about 3 million undeclared workers. By mid-2025, a 20 percent increase in inspections is planned with the goal of reducing its incidence by 2-6 percentage points by early 2026, cutting the gap with the European average by at least a third." Marialuisa Gnecchi, Vice President INPS
Cooperatives' response to undeclared work
"The term undeclared referring to labor is often used as a synonym for "submerged". In reality it is a part of informal work, which concerns all those anomalous activities, such as false workers posted abroad, or fraudulently undeclared, such as false VAT numbers," explains Francesca Martinelli, author of the research. "There is no one-size-fits-all approach to combating it, but it still needs to be known. Europe has activated a platform against undeclared work that precisely implements a holistic approach."
The research studies how European cooperatives deal with these issues, taking 11 cooperatives as examples: Diomcoop (Spain), Nazareth (Italy), Rcoop (Belgium), De Coöperatie (Netherlands), Doc Servizi (Italy), Soglasnik Language Cooperative (Slovenia), Bec Druzstvo (Czech Republic), Goel - Gruppo Cooperativo (Italy), CoopCycle (France), By-Expressen (Denmark), York Collective (England).
For each area of undeclared work, the researcher also sketched the profiles of the "typical" undeclared workers that the aforementioned cooperatives deal with, such as migrants, refugees, asylum seekers, arts and entertainment workers, unemployed and vulnerable workers in rural areas, seasonal workers, and, finally, gig workers.
All of these examples of virtuous cooperatives create formal employment opportunities, promote obtaining better working conditions by focusing on worker empowerment, and explore new labor arrangements.
Cooperatives through their flexibility can play an important role in combating undeclared work, but it is not enough. Therefore, the research proposes that policy makers should:
Promote the cooperative model as a tool to address undeclared work

Ensure that cooperatives have access to financing and business support mechanisms

Recognize an appropriate legal framework for innovative cooperative models

Activate the local level to support the cooperative model
Cooperatives and unions together against undeclared work
After the research presentation, testimonies were collected from the three presidents of Italian cooperatives that participated in the research: Giuseppina Biaggi, Nazareth; Vincenzo Linarello, Goel - Gruppo Cooperativo, and Demetrio Chiappa of Doc Servizi.
"The Nazareth Social Cooperative of Cremona counteracts undeclared work through two ways," explained Giuseppina Biaggi, "First, with training and education on work aimed at people going through difficult phases of life, both adolescents and adults, and who are most exposed to the risk of entering (or re-entering) paths of illegality. Second, Nazareth, through productive activities, generates employment opportunities in agriculture and tourism, aimed particularly at people with disadvantages. Through work, legality is experienced and work is done for the enhancement of the skills that each person can bring or acquire. These two paths are also strengthened by financial education that supports each person to plan his or her expenses and limit the risk of living above one's means."
Following this, during the panel discussion, speakers discussed the Italian situation and how to combat undeclared work in our country.
"Undeclared work is a challenge that we must win together: social partners and institutions"-said Sharif Sabria, Fistel-CISL National Secretary-"by strengthening the system of controls, providing within the CCNLs greater protections and a welfare system that is more functional to the new needs of female workers, with the aim of bringing into the world of work those who are invisible today."
"Cooperatives were born in Italy 170 years ago to provide an answer, on the basis of a principle of solidarity, to problems such as unemployment and the rising cost of living," pointed out Chiara Chiappa, president of Fondazione Centro Studi Doc and moderator of the event, "Today cooperatives represent the most emancipated tool of work, for both manual and intellectual activities, allowing even the new generations to transform passions into employment, with self-management and self-determination in the ways, places and times of work. This is only on the condition that associative activity is truly participatory."
Watch recording (in Italian)
This article was originally published in Italian on the Centro Studi Doc website.
Read the Lights On report here.
Read the Lights On report in Italian here.