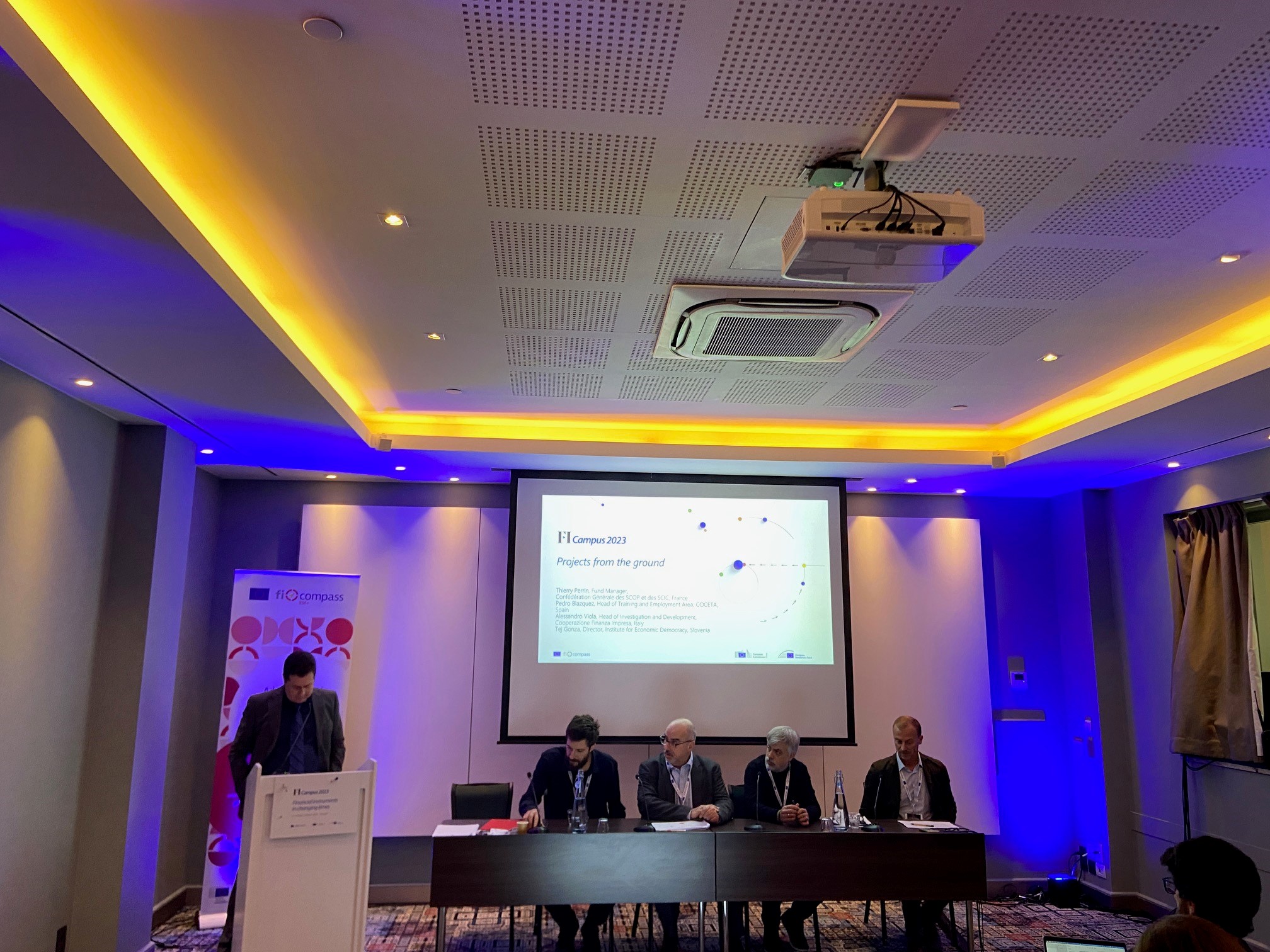 From the 13th to the 15th of March 2023, the event "FI Campus – Financial instruments in changing times" took place in Brussels. This event is organized by several DGs of the European Commission (including DG EMPL), and the European Investment Bank.
The three-day event brought together practitioners and experts from managing authorities of EU shared management funds, bodies implementing financial instruments, European Commission, European Investment Bank Group, and other stakeholders, including CECOP.
On March 14th, 2023, CECOP gave a presentation in the panel "Delivering financial instruments for workers buyout: employees taking over their company".
The session explored worker buyouts (WBOs), the circumstances under which they usually happen, and the available financial instruments to support them, as well as lessons learned and the way forward.
CECOP's Secretary General, Diana Dovgan, was invited to provide the European perspective on WBOs, and to present the expertise of worker cooperatives as well as benefits of creating a worker cooperative business as a result of a buyout.
The session also included CECOP members Thierry Perrin from CGSCOP (the French Federation of Cooperative sin Industry and Services), Pedro Blazquez from COCETA (Spanish Worker Cooperative Federation), and Alessandro Viola from CFI (Cooperazione Finanza Impresa). Other speakers were Patrick Klein from DG GROW, Andrea Da Pozzo from DG EMPL, Alessandro Celoni from Banca Etica, Tej Gonza from the Slovenian Institute for Economic Democracy, and Paolo Riva from Secondo Welfare.
In his introductory words, Paolo Riva, a journalist from Secondo Welfare, explained how the model is yet not very well known in Italy, although it should be. Examples from Italy and other countries have demonstrated that WBOs benefit not only workers, but also their communities, and overall have a huge contribution to economic resilience, improve cohesion and promote integration of supply chains. He also mentioned the now highly popular example of Ceramiche Noi, a worker cooperative that saved a ceramics company from offshoring and maintained local jobs.
Thierry Perrin, from CGSCOP, presented the French experience. WBOs in the form of cooperatives in France have happened in all sectors, from football clubs (Bastia) to construction. The French uniqueness and expertise consist in transfer of "sound" enterprises without successor to their employees. However, CGSCOP also provides support to enterprises facing critical situations, such as bankruptcy and liquidation. Statistics show that after 5 years enterprises created by worker buyout have high survival rates. But how can worker buyouts gain more popularity in Europe? According to Thierry Perrin, we need wider promotion of worker cooperatives and the cooperative form to different publics. The French banks know the model well, but we need to popularize it among equity funds. In addition, the EU rules and audits are very cumbersome, which may discourage or complicate the processes even more.
During this presentation, Pedro Blazquez from COCETA discussed how part of COCETA's strategy is focused on preserving employment through worker cooperatives. In the last 5 years, there have been 500 success stories of WBOs under the cooperative form in Spain. However, he also pointed out the need for supportive public policies – one example is workers capitalization of the unemployment benefits as capital investment of future worker cooperatives resulting from the buyouts. He also underlined the important investment in time and high level of multiple skills needed in cooperative support organizations to assist WBOs.
Subsequently the panel heard Alessandro Viola from CFI. He presented CFI as an example of a dedicated financial institution which supports WBOs as well as the development of existing cooperatives. Created by the well-known Marcora law, CFI has a multistakeholder structure, with government as a stakeholder and representatives of Italian cooperative confederations in its board. CFI has also supported big WBOs which have needed significant investment but didn't have enough capital in Italy; and since 2020, it has an agreement with the European Investment Fund for the EaSI Guarantee Instrument.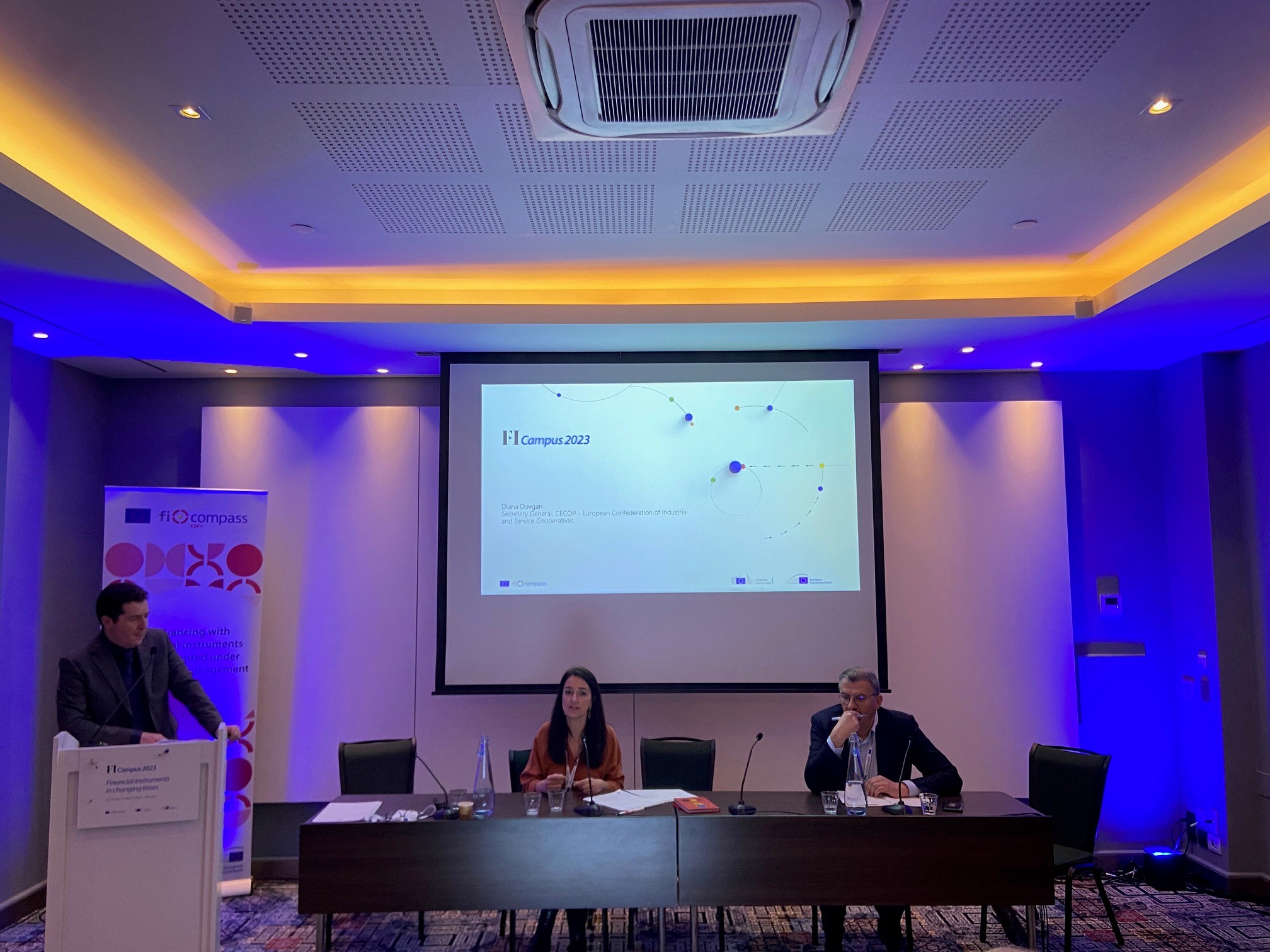 During her presentation, CECOP Secretary General Diana Dovgan emphasized how WBOs are saving not only jobs, but also skills and specialized know-how across Europe. Federations play a crucial role for supporting all stages of WBOs; their regional offices can engage different actors involved in the restructuring, such as trade unions and other stakeholders. Federations provide support and mentoring at all stages of the WBOs, from the diagnose whether a plan is viable, through the legal, business, and financial advice, and until providing training to workers who need to transition being co-managers of their own cooperative. Finally, engagement of cooperative federations – which are known as prudent investors – serves as collateral for other stakeholders to support WBOs. Financial instruments are vital for the success of WBOs, but they alone don't work – they must go hand in hand with other support systems. Among recommendations to the EU level, CECOP has stressed the need to have funding support for technical assistance for cooperative support organizations providing WBO consulting.
The panel also included presentations from Tej Gonza, from the Slovenian Institute for Democracy, who discussed the context for WBOs in Slovenia; and Alessandro Celoni, from Banca Etica, who explained the modus operandi of the cooperative bank.
The panelists concluded that both financial support (loans) and technical assistance (funds) are important for the success of WBOs, and suggested the European Commission undergo a study on what are obstacles to WBOs in each Member State.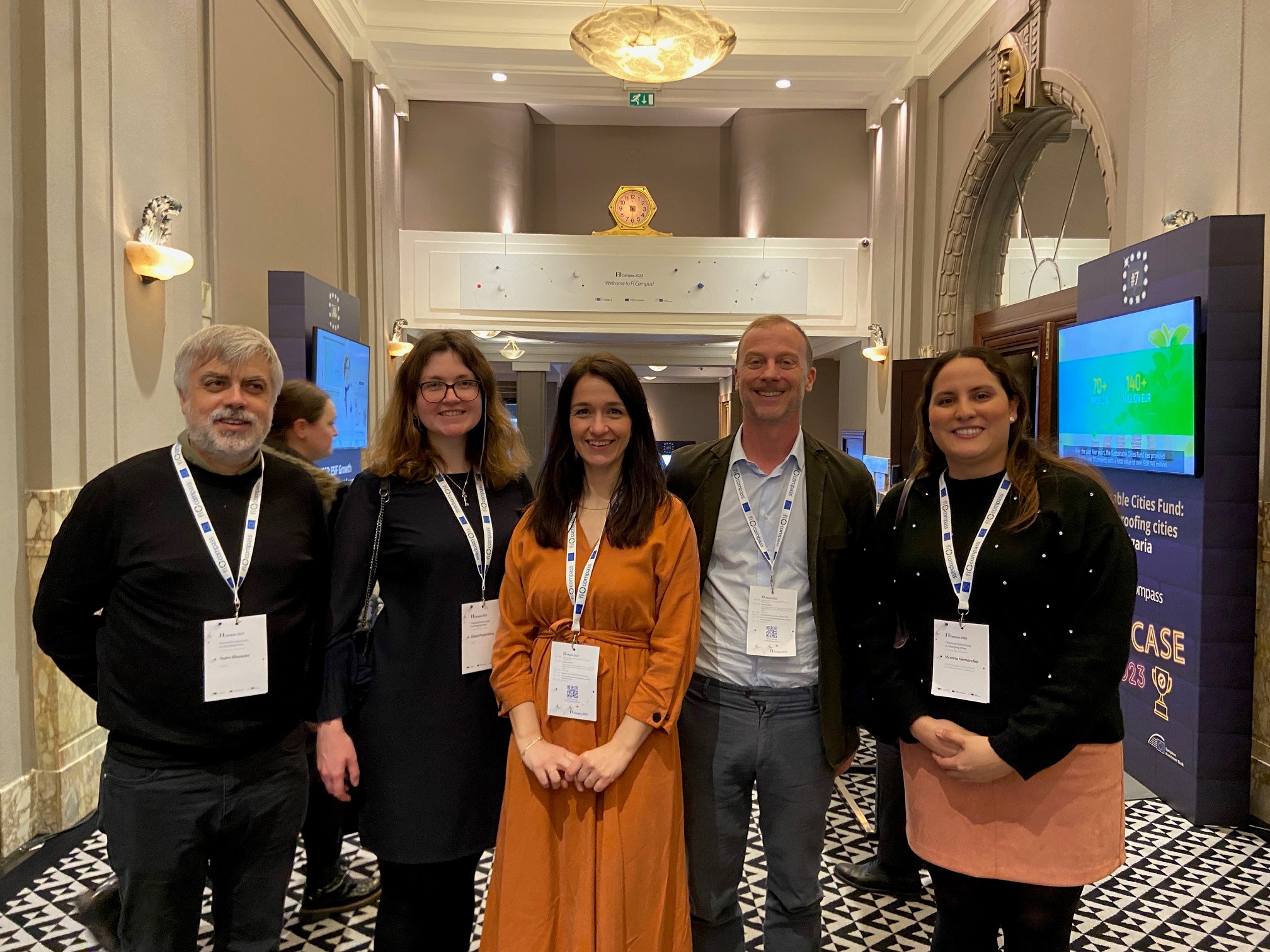 Click here to view the presentations