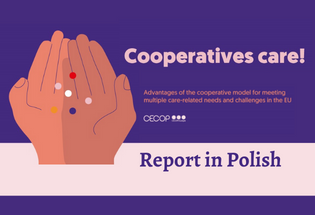 In June 2022, CECOP published the report "Cooperatives care! Advantages of the cooperative model for meeting multiple care-related needs and challenges in the EU".
Care is a universal need, while care provision is a fast-growing sector of the economy. In anticipation of the European Care Strategy to be published this autumn, this CECOP report focuses on cooperatives across Europe which are active in the care sector, providing essentially all types of care services to millions of recipients and employing hundreds of thousands of carers. We look at how cooperatives contribute to meeting the high demand for care and address the various challenges in the sector. The report also showcases best practice examples and offers policy recommendations.
Raport CECOP "Spółdzielnie opiekuńcze" już dostępny w języku polskim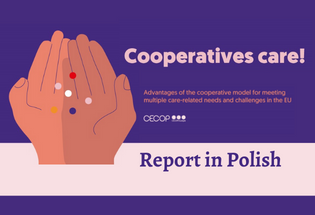 Raport CECOP koncentruje się na tym, w jaki sposób spółdzielnie przyczyniają się do zaspokojenia dużego zapotrzebowania na opiekę i jak radzą sobie z wyzwaniami w tym sektorze. Jest teraz dostępny również w języku polskim.
W czerwcu 2022 roku CECOP opublikowała raport "Spółdzielcze się opiekują! Zalety modelu spółdzielczego dla zaspokojenia różnych potrzeb i wyzwań związanych z opieką w UE".
Opieka jest powszechną potrzebą, podczas gdy jej świadczenie jest szybko rozwijającym się sektorem gospodarki. W oczekiwaniu na Europejską Strategię Opieki, która ma zostać opublikowana tej jesieni, niniejszy raport CECOP koncentruje się na europejskich spółdzielniach, które działają w sektorze opieki, oferując zasadniczo wszystkie rodzaje usług opiekuńczych milionom potrzebujących i zatrudniając setki tysięcy opiekunów. Przyglądamy się temu, w jaki sposób spółdzielnie przyczyniają się do zaspokojenia ogromnego zapotrzebowania na opiekę i stawiają czoła różnym wyzwaniom w tym sektorze. Raport przedstawia również przykłady najlepszych praktyk i oferuje zalecenia dotyczące polityki w tym obszarze.
Przeczytaj raport w języku angielskim
Przeczytaj raport w języku polskim