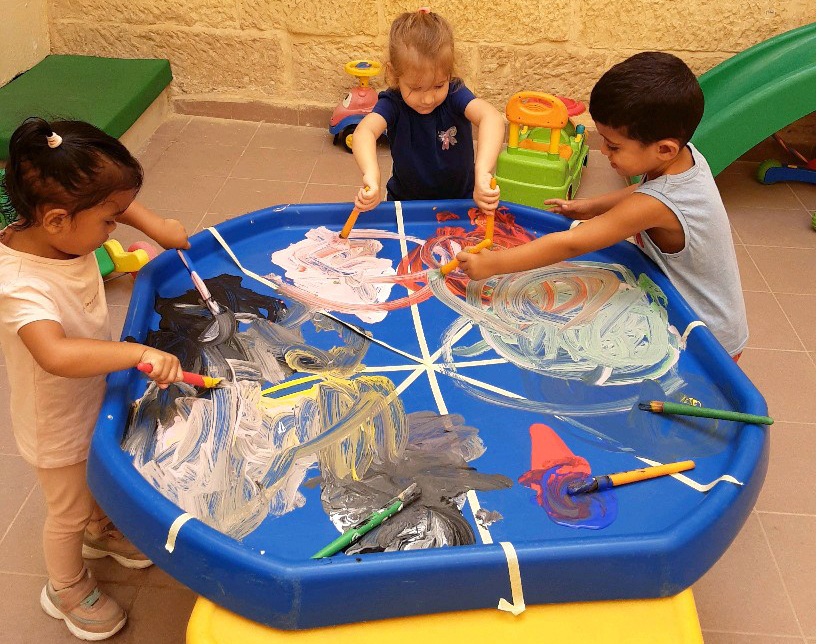 Vista Coop is a care cooperative whose objectives are early-years education, educational care, educational entertainment, and childcare.
At the time Vista coop was founded, there was no day-long, early-years education available in Malta. This inspired a few members from Outlook coop, at the time also parents, to create a cooperative that could take care of their children while they were at work.
The choice of the cooperative model came natural to them, as they were all members of Outlook.
In 2002, before properly founding the cooperative, they decided to start a pilot project by renting a government school facility. The idea was to offer a childcare summer school for children between the ages of 2 and 15 years. The project was a great success, and in 2003 Vista coop was born.
At the beginning, Vista coop's offer was limited to summer schools, however in 2007 they decided to increase their services. They rented a house and turned it into a childcare center. This is how "Kidstart", an after-school program for children 1 to 3 years of age, was born.
It is only in 2015 that Malta's government started to offer free childcare and it is for this exact reason that the industry started to grow exponentially. It is worth mentioning that until 2015, there were 30 centers across the island dealing with childcare, while now, 7 years after recognition by the authorities in Malta, 160 can be found.
The manager of Vista coop, Hilary Caruana, tells us that the cooperative has managed to not only survive, but endure and grow, despite competition in recent years. This is thanks to three government-funded projects related to care in their early years. Moreover, they could continue their work, as the services they provide are of the utmost quality.
Vista coop now has 4 active projects: Childcare, Kindergarten, after school and holiday clubs, and employs 27 workers full time.
Regarding their day-to-day activities, Vista coop is always looking for ways to internationalize and grow the coop. They find it beneficial for kids to encounter people from other countries, as they get to know new cultures, and backgrounds. It is for this reason that Vista coop is always open to international internship applications and migrant workers, providing them with a working visa.
All the workers have to respect the high standards of the cooperative, that chooses to use the Reggio Emilia Approach®, an educational philosophy based on the image of a child with strong potentials for development and a subject with rights, who learns through the different languages and communication means belonging to all human beings and grows in relations with others1.
Following this approach, Vista coop makes it a strong point that the 150 children they take care of are their first "client". It is for this reason that carers are constantly provided with continuous training, especially in the field of child abuse recognition, as well as constant dialogue with families.
With eyes set on the future, the cooperative is now evolving, and it is currently working with a gaming company based in Malta. They have set up a new center based on the company premises and are providing after-school care to the employee's families. This is a unique concept on the island.
Care continues to be a demanding and growing sector, therefore having cooperatives provide excellent service in this field can only benefit the communities who need these the most in the long run.
Vista Coop is a member of Koperattivi Malta, one of our Maltese members.