InFact was established in 2019 as a worker cooperative. They are a digital creative agency composed of designers, developers, and web professionals that want to positively use their skills and work for social good.
The cooperative focuses on developing apps, websites, and digital tools, and they work with charities, non-profits, and businesses. The modus operandi with their clients is also simple: they work in close collaboration with the clients, to ensure a great product delivery, testing it every step of the way. This method is called Agile, and it guarantees an exceptional digital product at a good rate.
The members first met through the Founders and Coders community (a British free web development program with that values social inclusion and the cooperative values). After the completion of the program, they decided to set up a worker cooperative because it is what made the most sense. They were surrounded by other positive examples of worker cooperatives, and knew it was the only way forward.
Additionally, CECOP board member Siôn Whellens, who met the InFact crew through CoTech, the UK network of 45 tech worker coops, personally oriented them and advised them on how they could ensure an equitable distribution of work and compensation during the tricky start-up phase, when contracts are few and the members need to supplement their cooperative income with outside freelance contracts.
"As a member of that network myself, through the Principle Six co-op development partnership, I'm often able to help new and existing groups with legal and governance advice". He says.
The worker cooperative is made up of a young (under 35) dynamic team, composed of three worker members: two men and one woman, Ivan Gonzalez, Max Gerber, and Lucy King. Being a small cooperative means their roles are quite loose in terms of governance, since they are very close, and can have discussions whenever is necessary.
"Our goal was to create a great place of work for ourselves, so it made sense to form a coop where the workers are recognized as fundamentally important and hold all of the decision-making power", explains worker-member Lucy King.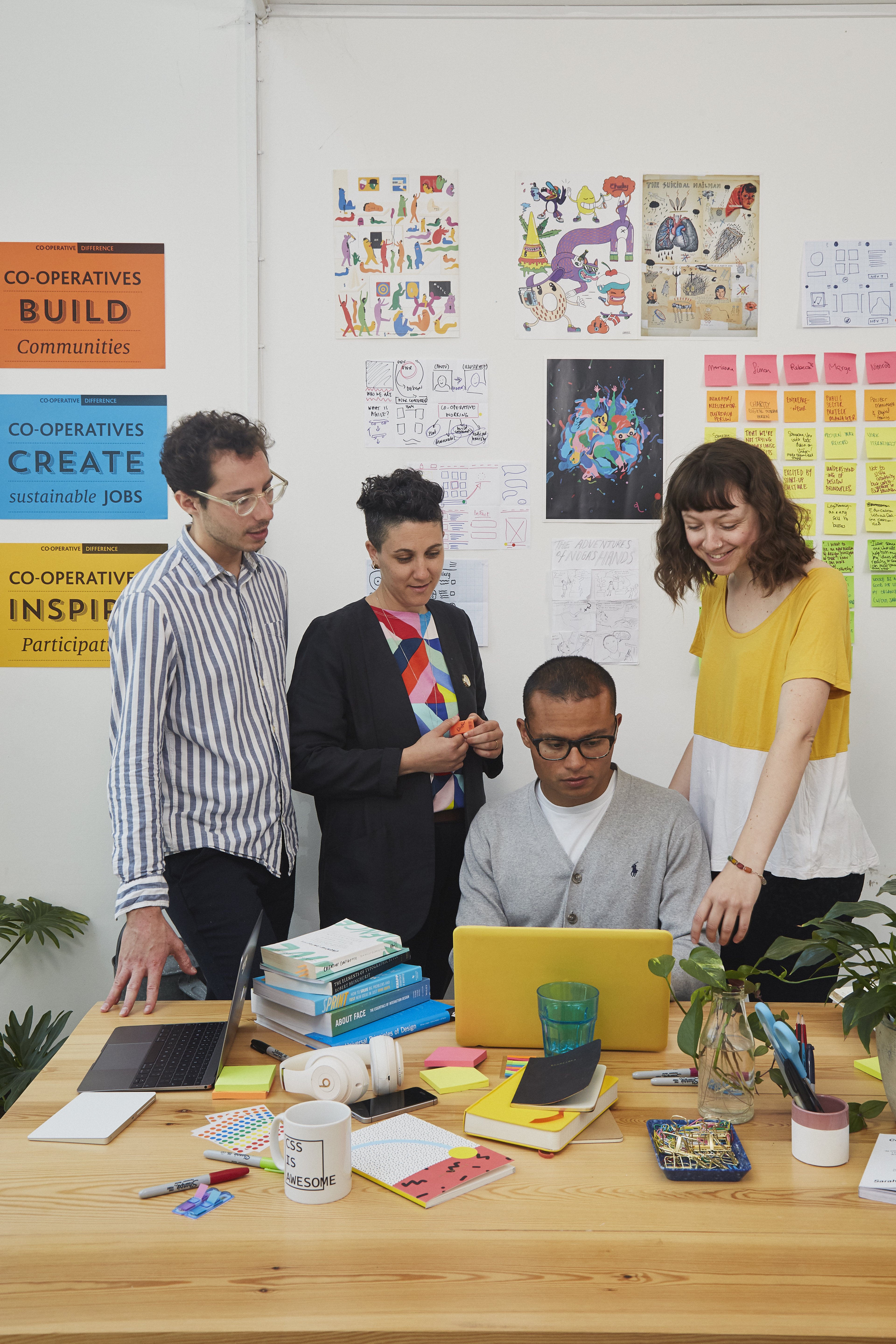 Their day-to-day day includes a daily morning 10 AM meeting to have a check-in on everyone's work and plans. Moreover, they have a longer monthly meeting where finances and administration are discussed, as well as additional ideas and projects are brought forward.
They are currently all work together in SPACE4, a special coworking space set up especially for these cooperatives. The members of InFact enjoy being able to work there since not only they are surrounded by other great coops, but this means they can also support each other, share useful best practices and learnings, and collaborate when necessary.
The COVID-19 pandemic has certainly shaken the whole world, and the cooperative movement has not been an exception. This is something that initially worried InFact as well, so when the virus first hit the UK, their response was to lower their paychecks until they had more certainty of the situation, and they established a 4-day week.
As the months went by and the situation settled, they were able to restore their normal paychecks, nevertheless they have decided to officially make a 4-day week their standard. Looking back, they can also positively say, that they had more work due to the pandemic than otherwise. When asked what their members see as the added value of being a cooperative, King responds:
"We always remember that our goal is not to just make money, it is to make money to give all of the members a decent living. Seeing ourselves as members as well as workers helps us to remember to prioritize our wellbeing at work. It means we do not think of that as an added extra, because the goal of the coop genuinely is to focus on the needs of its members."
As for the future, they are no certain plans to expand the cooperative just yet. If they would hire new workers, they would like them to initially just be workers, and after a certain amount of time they would like to offer the possibility for them to become members as well if desired. However, it is not something they have thought about just yet, but eventually, who knows? The sky is the limit.
InFact is a member of Cooperatives UK, our British member.