The Filippo Corridoni port company is a worker cooperative active since 1930. It undoubtedly has a good history of cooperation in which members and employees work together with competence and professionalism, in full respect of the environment, sustainability and enhancement of the territory.
It operates mainly in the ports of Olbia and Golfo Aranci, in Sardinia, providing port services such as loading, unloading, trans-shipment, storage, movement in general of goods, and any other material carried out in the port. It also provides specialized services, complementary to the cycle of port operations.
Let's get to know this AGCI cooperative better with its President, Piero Diana:
When was the port cooperative "Filippo Corridoni" founded?
The port company was born by bringing together all those souls that in the port of Olbia carried out, long ago, different activities, such as the so called boari , the custodian and steward of oxen used in farm work. There were also the longshoremen, the baggage handlers who worked in the port, organized in such a way that there was a single user, a single representation. It is important to point out that at that time, the capolarato (the e illegal recruitment of workers for very low wages), was widespread, and people worked in a disorganized manner and without protection.
You have just mentioned capolarato, a phenomenon that remains present even today in various sectors. In your sector, that of transport and logistics, have there been cases of labor exploitation?
Absolutely not.
Since when are you president of the cooperative?
I have been President since 2013 and I joined the cooperative thanks to a public competition organized by the harbormaster's office, with the support of the Merchant Navy. It was a public competition that was announced at the request of the port company when there was a lack of personnel, or, as in my case, when a generational turnover was happening, as many were retiring. Specifically, there were both theoretical and practical tests to acquire a score necessary to move up the list. When I went through it, there were five hundred of us.
Are there women doing this kind of work?
We were the first company to hire a woman who worked with us for over ten years. While she wasn't doing the heavy lifting; her contribution was certainly very valuable.
How many employees, and how many members does the cooperative have?
Because of the new Italian pension reform, for the last two years, 30 members left. However, they were replaced by their children and relatives, as the passion for this profession was passed down to the next generations, so we did not have a public competition.
We are currently 12 members and 40 employees.
Where do you mainly operate?
We operate in the Port of Olbia and the Golfo Aranci.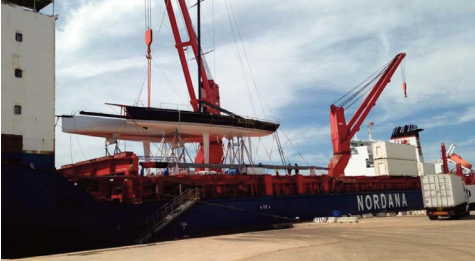 The "Filippo Corridoni" company is an AGCI cooperative. What does it mean to cooperate in a reality like yours?
For us, the cooperative is synonymous with alliance and aggregation, values that I try to transmit to our young people. I joined the cooperative when I was 18 years old. The company we had before is completely different from the one we have today. It's important for us to pass on the values to those who live and will live in the company in the future. It's a close-knit family where everyone has their own role. For me and the remaining members, it's a challenging job and we want to pass on everything we've always carried forward: spirit of sacrifice and teamwork.
How has your work changed with the pandemic?
It has changed emotionally more than anything else. As far as work is concerned, there has been no change at all. In fact, while the rest of the world stopped, we continued to carry out our work, with all the necessary precautions but with the constant fear that we might become infected. In short, we lacked psychological serenity. When we finally started a cycle of vaccinations, we were able to work with less difficulty.
What is your wish as president for the future of the cooperative?
We are working on a project that I believe is the most important of our cooperative: we are acquiring a new crane, of the latest generation, which will allow us to be more competitive on the market. We have some cranes, but they are starting to "age", mainly because the sea wears them down over time. The investment of two and a half million euros that we have planned represents a tangible sign of "giving" another 30 years of life to the coop. I believe this is the best concrete wish that a president can have and leave as a legacy to those down the line.
Have you ever about changing your job?
No, because I am passionate about my work, despite the dark periods that have passed, such as when we lost our collaboration with Tirrenia (Italian navigation company), a partnership we had for more than 60 years. It was a hard blow for us, terrible years, considering that, in December 2017, we found ourselves without a job. Fortunately, in the meantime, another company took over, Grimaldi, which in a way, helped us to re-emerge.
As a good boxer teaches, it doesn't matter if you fall, what matters is not to stay on the ground, so we did. We got back up stronger than before, aware that challenges are won only if they are faced together, cooperating, and continuing to love our work, our territory, the sea, and the port, which is a place that has its own charm, a meeting point, a bustle where people, stories and destinies meet and we are there, ready to welcome them.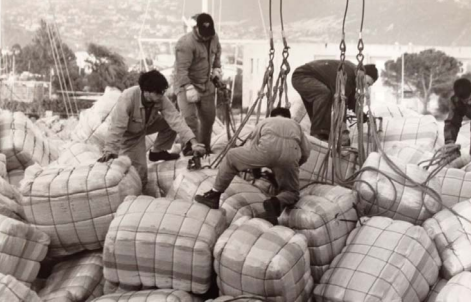 The coop Filippo Corridoni is a member of AGCI Produzione e Lavoro, one of our Italian members.
This interview was originally published in Italian in the magazine Libera Cooperazione and written by Mascia Garigliano.