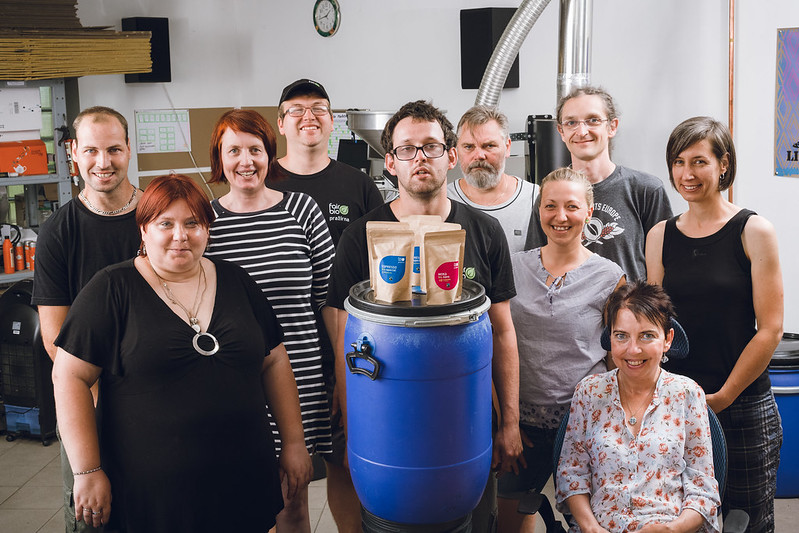 Fair & Bio Roastery is a Czech social cooperative located in Prague and Central Bohemian town of Kostelec nad Labem. They focus on fair trade coffee roasting & distribution while employing people with disabilities.
This social cooperative started its economic activities back in 2013. They decided to establish a coffee roastery because they noticed that not a lot of fair-trade food products were produced nationally, but rather imported, and they aimed to change that. The rationale of why drink coffee processed abroad, instead of having one roasted inland with a social cause made a lot of sense, and a few years later here they are, just in time for their 8th anniversary this summer.
Their name comes from an obvious place. The coffee roasting plant not only follows a clean, fair, transparent value chain when purchasing their green beans, but also has a Fairtrade mark. The coffee is organic, and ethically sourced. Once the green beans arrive in the Czech Republic, the cooperative takes care of roasting it, packaging it, and distributing it to cafes, restaurants, coffee shops, organic shops, and individual customers.
While their business product is already sustainable, they have also built their core management being attentive to the needs of their territory. As a matter of fact, 75% of the Fair & Bio employees are mentally or physically handicapped. To make this possible the roastery was established near a town that used to host a big housing facility for people with disabilities. After it was decided to close the facility, and open assisted accommodation such as apartments and special care homes for people with disabilities in the region to favor their integration, the founders of the coop saw an opportunity to provide labor integration to this vulnerable category.
The Fair & Bio team consists of 12 employees, of which 9 are mentally or physically disabled (or both). The disabled workers have various tasks around the roastery – mainly hand packaging coffee. One does computer work such as billing and communication with customers. All of them are supervised by two assistants and a manager.
Fair & Bio President Markéta Vinkelhoferová says: "Our coop is responding to a need for social and environmentally sustainable coffee and local production, while providing jobs to the disabled people. It is this uniqueness that makes our market advantage."
To set up their coffee roasting plant, Markéta and the other founders had to face the stigma that was attributed to cooperatives in the Czech Republic after socialism when cooperatives lost their core dimensions of autonomy and independence. However, "things are changing" assures Markéta and by showing a good example, talking to people at events (before covid times), giving presentations and sharing their successful story (nowadays mostly online), Fair & Bio is openly contributing to this change.
When it comes to the COVID-19 pandemic, no sector remained the same, and they are not the exception. They had to change their whole chain, from roasting, to how much people they could have on-site at one moment to keep everyone safe, to even packaging.
Before the pandemic, their biggest clients were other businesses and offices. Their selling point for consumers was their partner fair trade shop in Prague bearing the same name "Fair & Bio". Once the pandemic hit, they were forced to re-evaluate their needs and products, as 5-10 kg coffee orders (large portions in zero waste barrels) have not been sold because of the whole food and event sector has been shut down for months. To continue with the thriving business, they switched for smaller packaging to satisfy the needs of individual consumers ordering at their eShop (within the Czech Republic only at the moment). Luckily enough it worked, however, not without its challenges.
"We had to take a lot of training in online marketing, e-commerce, and social media", explains Markéta. "Before the pandemic, our core business was happening offline, and our eShop accounted for very little of our annual revenue. In the span of a few months, we had to go mostly digital, and change our entire way of doing things. Changing their routine and work overnight was not easy. All the sudden we had more orders, but for smaller amounts, which we had to adapt to. The new rhythm was hard for our employees at first, but we are glad that they have managed to their new tasks with time. And they are happy our roasting plant has not closed like some other small businesses."
As they see it, their added value as a cooperative is impactful. The coop overall tackles three main issues: social, environmental, and economical. The social aspect is tackled by creating jobs for disadvantaged people and helping them integrate into the workforce and society. The environmental issue is tackled by having a clean supply chain, and selling fairly traded organic coffee, in zero-waste manner in a growing amount. Thirdly, the economical aspect is tackled by being a self-sufficient organization. While they get some governmental subsidies because they employ people with disabilities, they main income is insured through their business operations.
This cooperative is a great example of resilience and perseverance, after all. Who does not enjoy a good cup of coffee?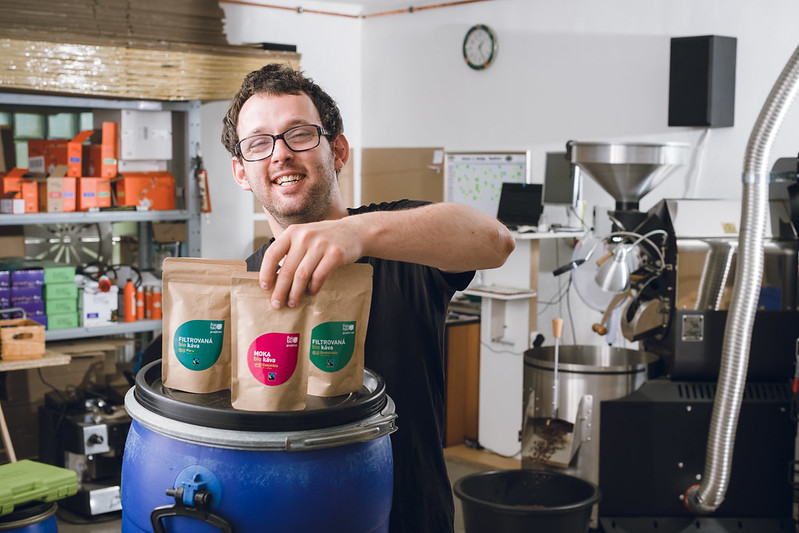 Fair & Bio Roastery is a member of SCMVD, our Czech member.